 Washington, DC Speaker Auditions
Introducing Wes Berry, an accomplished motivational keynote speaker, workshop facilitator, and trainer in Washington, DC. Armed with exceptional professional skills and real-life experiences, Wes commands the stage with unparalleled impact. Collaborating with Fortune 500 giants such as Johnson & Johnson, as well as businesses of all sizes, he orchestrates breakthrough experiences. Wes's influence is transformative, as he delivers a Paradigm Shift that reshapes participants' mindsets, catalyzing profound changes in lives and organizations. As a distinguished TEDx Speaker and acclaimed Wall Street Journal bestselling author of sixteen books on business and success, Wes's impact is far-reaching. His entrepreneurial journey encompasses building a $750 million international enterprise spanning 130 countries. Beyond his achievements, Wes's dynamic persona extends to standup comedy, television appearances, and radio hosting. Trust Wes Berry to bring inspiration that captivates, motivates, and sparks lasting change.
WSJ & USA TODAY bestselling author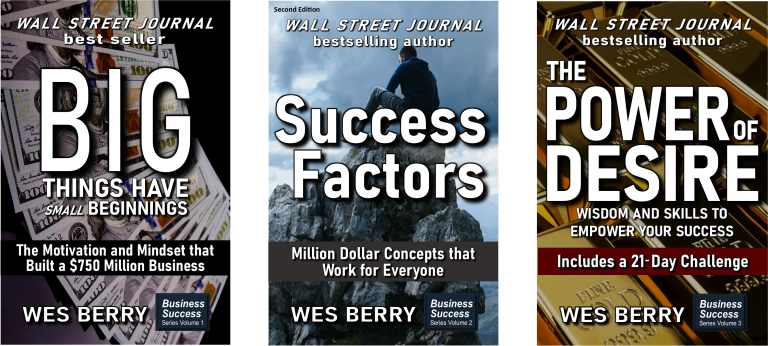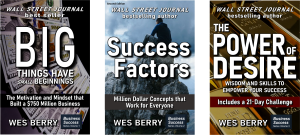 Discover the Four Temperaments icebreaker by Wes Berry, a prominent motivational keynote speaker in Washington, DC. Rooted in Hippocrates' legacy, this concise test, regarded as the cornerstone of personality assessment, initiates a Paradigm Shift. By unlocking insights into how diverse temperaments can interact harmoniously, participants gain a fresh mindset. Wes Berry's expertise fosters transformative change, enhancing interactions and fostering more effective collaborations among individuals. Elevate your event with Wes's captivating approach, equipping your audience with tools for improved understanding and impactful interactions.
Discover Wes Berry's dynamic expertise in Business and Success Factors as he captivates audiences with humor, motivation, and paradigm-shifting insights. Audiences take away laughter and transformed mindsets guaranteed to enhance personal and professional success. Wes's Speaking Catalog offers an array of extensively explored topics, readily available for impactful Keynote Speaking and Workshop Presentations. From leadership and teamwork to stress management and communication, Wes's versatile approach ensures engagement and growth. Custom presentations tailored to your needs further exemplify his commitment to delivering meaningful experiences. Choose Wes Berry to inspire, empower, and elevate your next event in Washington, DC.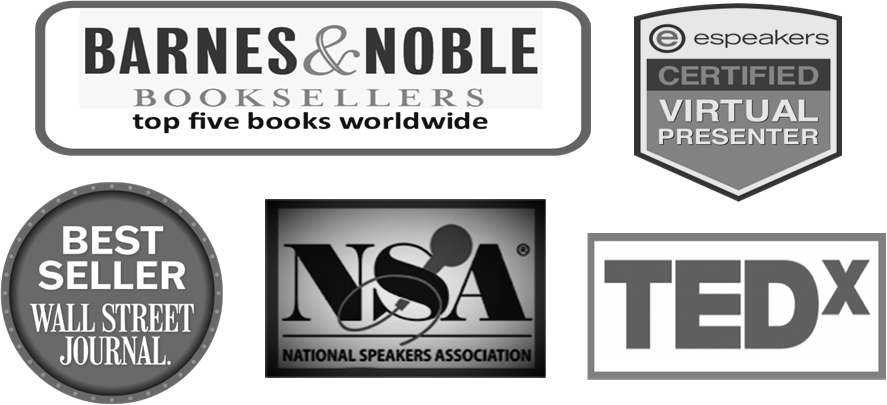 Meet Wes Berry, a trailblazing entrepreneur and captivating storyteller based in Washington, DC. With a remarkable entrepreneurial journey, Wes founded and propelled an international business to an astounding $750 million in sales, spanning 130 countries. His impact extends beyond business, as he established a private vocational school, a multi-state retail franchise system, and numerous million-dollar companies.
Wes's influence reaches the forefront of change as he served on boards for educational foundations, youth assistance programs, and even prestigious institutions like Henry Ford Hospital. Recognitions as the NAACP's Businessperson of the Year and Businessperson of the Year by Optimists International affirm his enduring optimism.
A true luminary in communication, Wes masterfully delivers captivating keynote speeches and workshops, guided by his extensive knowledge. With sixteen bestselling books under his belt, including "Big Things Have Small Beginnings," he's hailed by reputable platforms like the Wall Street Journal and USA TODAY. His dynamic speaking prowess extends to his role as a talk radio host.
Wes's insights span diverse subjects, positioning him as a sought-after expert media contributor. His wisdom graces esteemed outlets including NPR, The Wall Street Journal, The London Times, Entrepreneur, and Fox News, among others.
Beyond his professional accomplishments, Wes cherishes a thriving family life, celebrating over 30 years of marriage and nurturing four adult sons. His leisure moments are shared with his English Bulldog companion and the pursuit of mastering his golf game, embodying his commitment to continuous growth.
Experience Wes Berry's magnetic presence and enduring wisdom. Elevate your event with his insights, and inspire transformation in the heart of Washington, DC.


I Love Everything About Washington, DC
Selecting an ideal location for your upcoming convention or meeting is a critical decision, and Washington, DC stands out as an exceptional choice. With its unique blend of historical significance, modern facilities, and cultural vibrancy, the nation's capital offers an unparalleled setting for successful events. Here are the top ten reasons why Washington, DC should be your destination of choice:
1. Historical Heritage: Immerse your event in the rich history of the United States by hosting it in Washington, DC. The city's iconic landmarks, museums, and monuments offer an inspiring backdrop that can add depth and meaning to your gathering.
2. Versatile Venues: Washington, DC boasts an array of versatile venues suited to events of all sizes and types. From modern convention centers to historic hotels and unique event spaces, the city provides options to suit your specific needs.
3. Accessible Location: Strategically located on the East Coast, Washington, DC is easily accessible for attendees from across the country and around the world. The city is well-connected through its international airport and efficient public transportation system.
4. Government and Policy Hub: As the nation's capital, Washington, DC is a hub for government, policy, and international affairs. Hosting your event here provides a unique opportunity for engagement and collaboration with government officials, policymakers, and thought leaders.
5. Leading Institutions: Benefit from the proximity to world-renowned institutions, including universities, research centers, and think tanks. This offers access to expert speakers, panelists, and cutting-edge research relevant to your event's theme.
6. Cultural Enrichment: Infuse your event with culture and art by taking advantage of Washington, DC's numerous museums, galleries, and performing arts venues. Attendees can explore these enriching experiences during their downtime.
7. Networking Hub: With its diverse industries and influential organizations, Washington, DC offers exceptional networking opportunities. Your attendees can connect with professionals and thought leaders from various fields, fostering meaningful relationships.
8. Vibrant Neighborhoods: Washington, DC's neighborhoods each have a distinct personality, offering attendees a range of experiences. From the historic charm of Georgetown to the urban energy of Dupont Circle, attendees can explore the city's diverse character.
9. Global Cuisine: Savor a world of flavors with Washington, DC's vibrant culinary scene. The city's restaurants showcase international cuisines, ensuring attendees have a memorable dining experience.
10. Innovation and Technology: Washington, DC is home to innovative companies, research institutions, and tech hubs. This environment fosters creativity and the exchange of ideas, making it an ideal backdrop for events focused on innovation and technology.
In summary, Washington, DC presents itself as an unmatched destination for conventions and meetings, where history meets innovation and culture meets progress. By choosing Washington, DC, you offer your attendees an inspiring environment, access to influential networks, and a memorable event experience that embodies the spirit of the nation's capital.