 Columbus Speaker Auditions
Experience a transformative "Paradigm Shift" with Columbus, OH's motivational keynote speaker, Wes Berry. Leveraging his professional skills and real-life wisdom, Wes excels as a keynote speaker and workshop facilitator. Collaborating with Fortune 500 giants like Merck Pharmaceuticals and businesses of all sizes, he drives breakthrough experiences. Wes's impact is profound, instigating life-changing shifts and organizational transformations through paradigm shifts in participants' mindsets. As a TEDx speaker and acclaimed Wall Street Journal best-selling author of sixteen business and success books, he imparts unparalleled expertise.
An entrepreneurial luminary, Wes spearheaded a $750 million international enterprise across 130 countries. Adding flair, he ventured into standup comedy, television, and radio, even humorously endorsed by his mother for a "face for radio." Elevate your event with Wes Berry's charismatic delivery and expertise for an inspiring journey toward transformative change.
WSJ & USA TODAY bestselling author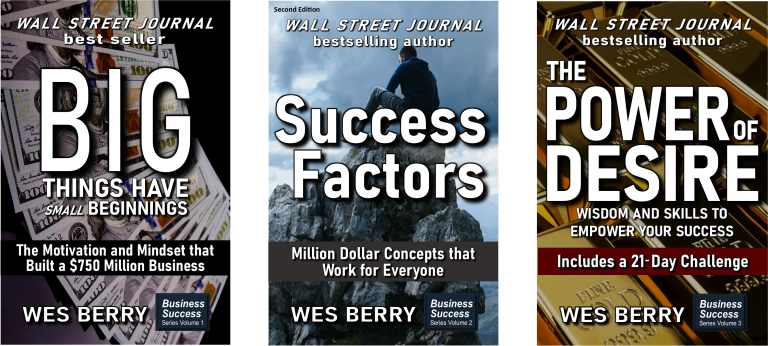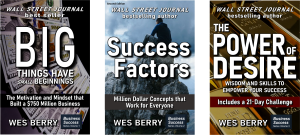 Embark on a "Paradigm Shift" with Columbus, OH's motivational keynote speaker, Wes Berry. Discover the transformative power of the Four Temperaments test—an ancient concept originating from Hippocrates, the father of modern medicine. Crafted 2480 years ago, this test introduces fresh mindsets, fostering a profound shift in comprehending interactions among individuals with diverse temperaments. Experience Wes Berry's icebreaker expertise, setting the stage for a new level of understanding and collaboration among your audience.
Explore the expertise of Columbus, OH's motivational powerhouse, Wes Berry—a distinguished keynote speaker, workshop facilitator, and trainer. Focused on Business and Success Factors, Wes instills a transformative mindset ensuring enhanced personal and professional achievements. His forte encompasses mindset, leadership, growth, teamwork, integrity, core competencies, change, inclusion, stress, temperaments, outcome-based sales, and communication—topics expertly represented in his Speaking Catalog. Attendees receive digital copies of his authored books, underscoring his mastery in these subjects, available for Keynote Speaking and Workshop Presentations. Wes's presentations are enriched with humor, motivation, and audience engagement as foundational elements. Tailored to your needs, his custom presentations offer a unique touch, ensuring an unforgettable event experience.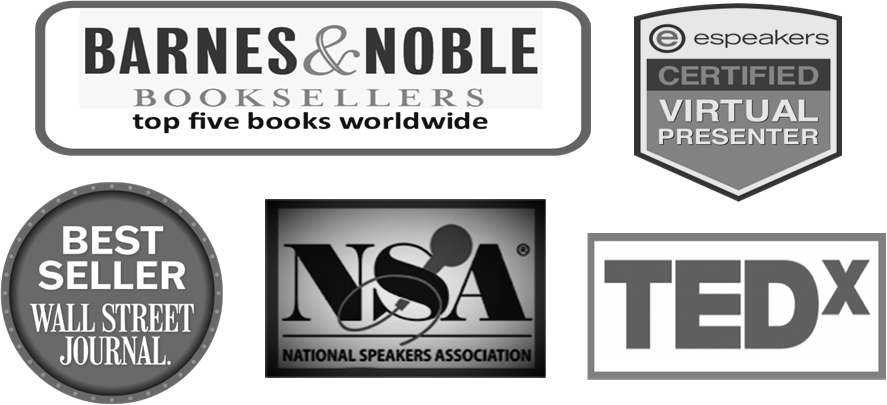 Explore the diverse persona of Wes Berry, an esteemed motivational keynote speaker in Columbus, OH. With a remarkable entrepreneurial journey, Wes founded and scaled an international business to over $750 million in sales across 130 countries. His commerce prowess extends to establishing a vocational school, a retail franchise system across five states, and multiple million-dollar ventures. A philanthropic spirit, he's served on boards of educational foundations, youth assistance programs, and notable healthcare institutions.
Recognized as the NAACP's Businessperson of the Year and Optimists International's Businessperson of the Year, Wes embodies optimism and accomplishment. A consummate communicator, his knowledge shines in keynote speaking and workshops. Author of sixteen bestselling books, including the Wall Street Journal and USA TODAY bestseller "Big Things Have Small Beginnings," Wes's insights are invaluable.
His dynamic speaking style translated seamlessly to talk radio hosting, capturing audiences. Beyond accolades, Wes's playful claim of being a "trophy husband" adds a light touch.
Wes's expertise extends to media, contributing on topics from drones to retail transformations. His presence spans NPR, The Wall Street Journal, Entrepreneur, and Fox News, amplifying his authority.
Married for over 30 years, Wes cherishes family time and golf. His journey epitomizes entrepreneurial success, charisma, and dedication to learning, inspiring audiences.


I Love Everything About Columbus
Selecting the perfect destination for your conventions and meeting facilities is pivotal to a successful event. Look no further than Columbus, OH—a dynamic city that offers an array of advantages for your gathering. From state-of-the-art event venues to a vibrant cultural scene, Columbus ensures a memorable and impactful event experience. Here are the top ten reasons why Columbus should be your ultimate choice:
Versatile Event Spaces: Columbus boasts a diverse range of event venues, from modern convention centers to charming boutique locations, providing options to suit every event type and size.
Midwestern Hospitality: Known for its friendly residents, Columbus offers genuine Midwestern hospitality, creating a welcoming and comfortable atmosphere for attendees.
Accommodation Variety: With a wide range of accommodation options, from upscale hotels to budget-friendly lodgings, Columbus ensures that attendees have a comfortable stay.
Strategic Location: Columbus's central location in the Midwest makes it easily accessible for attendees from various regions, simplifying travel logistics.
Culinary Excellence: The city's burgeoning culinary scene offers diverse dining experiences, catering to various tastes and dietary preferences.
Arts and Culture: Columbus's thriving arts and cultural scene provides entertainment options for attendees to explore during downtime, enhancing their overall experience.
Tech Hub: As a burgeoning technology hub, Columbus offers access to cutting-edge resources and innovation, making it ideal for events focused on industry advancements.
Networking Opportunities: The city's diverse industries and professional organizations foster ample networking opportunities, allowing attendees to connect and collaborate.
Educational Institutions: Home to esteemed universities and research centers, Columbus provides access to expert speakers and resources for knowledge-sharing events.
Keynote Speaker Excellence: Wes Berry: Elevate your event with the expertise of Wes Berry, an acclaimed motivational keynote speaker based in Columbus. With his extensive business knowledge and dynamic speaking style, Wes adds a unique dimension to your event, inspiring and empowering your attendees.
Wes Berry's journey as an entrepreneur, international business leader, and bestselling author enriches your event experience. His captivating presentations span topics like mindset, leadership, growth, and effective communication. Wes's engaging speaking style, coupled with profound insights, resonates with audiences, igniting positive change and progress.
In conclusion, Columbus, OH is a strategic choice for conventions and meetings, offering an ideal blend of cutting-edge event facilities, cultural attractions, and warm hospitality. With the added advantage of Wes Berry's expertise, you can ensure that your event becomes a resounding success, leaving attendees motivated and equipped to excel. Choose Columbus for an impactful event that creates lasting memories and meaningful connections.