 Las Vegas Speaker Auditions
Unlock the potential of your event with Wes Berry, an esteemed motivational keynote speaker in Las Vegas, NV. Wes brings unparalleled professional skills and real-life experience to every stage. As a keynote speaker and workshop facilitator, he collaborates with diverse entities, from Fortune 500 companies like Merck Pharmaceuticals to businesses of all sizes, delivering transformative breakthrough experiences.
Wes's impact is profound; he instigates Paradigm Shifts in participants' mindsets, catalyzing personal and organizational transformations. A TEDx Speaker and Wall Street Journal bestselling author of sixteen business and success books, Wes's expertise resonates globally. His entrepreneurial journey spans a $750 million international enterprise across 130 countries, revealing his strategic acumen.
Wes's dynamic persona extends to comedy, television appearances, and radio hosting. Choose Wes Berry as your catalyst for change, enhancing your event's impact with unparalleled insights and inspiration in Las Vegas.
WSJ & USA TODAY bestselling author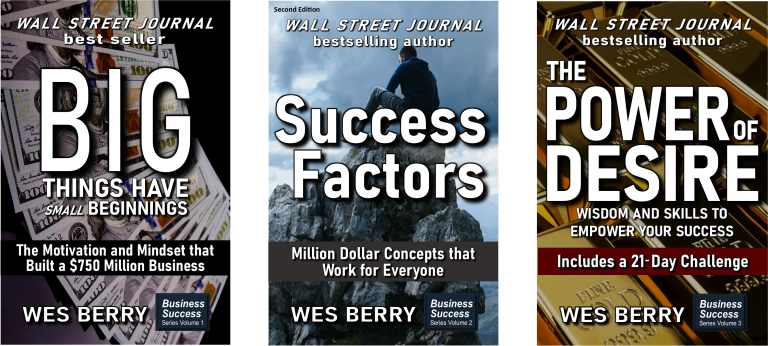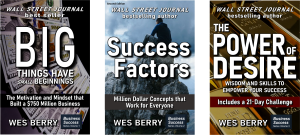 In Las Vegas, NV, experience the motivational prowess of keynote speaker Wes Berry. He introduces the engaging Four Temperaments test—an ancient concept attributed to Hippocrates, the father of modern medicine. This icebreaker, tracing back 2480 years, unveils insights into personalities. As physicians still take the "Hippocratic oath," this test facilitates a paradigm shift in participant's perspectives, enhancing interactions between varied temperaments. Elevate your understanding and effectiveness through this timeless tool with Wes Berry.
Discover Las Vegas, NV's motivational powerhouse—Wes Berry, your keynote speaker, workshop facilitator, and trainer. Focused on Business and Success Factors, Wes instills fresh mindsets for heightened personal and professional triumphs. His forte encompasses mindset, leadership, growth, teamwork, integrity, core competencies, change, inclusion, stress, temperaments, outcome-based sales, and communication—reflecting his authored books available in digital format to attendees. Proficient in these domains, Wes crafts dynamic Keynote Speeches and Workshop Presentations infused with humor, motivation, and audience engagement. Tailored content is also an option, catering precisely to your requirements. Elevate your event with Wes Berry's expertise, ensuring enduring takeaways and transformative experiences.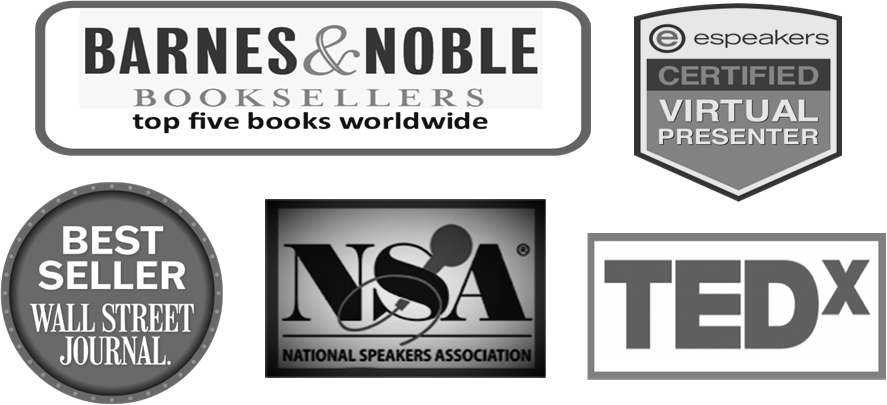 Explore the multifaceted journey of Las Vegas, NV's motivational keynote speaker, Wes Berry. A seasoned entrepreneur, Wes achieved remarkable success by founding and nurturing an international business with a staggering $750 million in global sales across 130 countries. His business acumen extended to establishing a private vocational school, a five-state retail franchise system, and several million-dollar ventures. Holding pivotal roles on esteemed boards, including educational and healthcare foundations, Wes earned accolades such as the NAACP's Businessperson of the Year and Optimists International's Businessperson of the Year.
Wes's prowess extends beyond entrepreneurship; he is a masterful storyteller and communicator. With sixteen bestselling books in the realm of business and success, including the renowned Wall Street Journal and USA TODAY bestseller "Big Things Have Small Beginnings," his expertise resonates in his engaging keynote speeches and workshops. His media presence is equally impactful, featured across NPR, The Wall Street Journal, Entrepreneur, Fox News, and more.
While accomplishments abound, Wes remains grounded in his 30+ year marriage and fatherhood to four grown sons. He finds solace with his English Bulldog and hones his golf game during leisure moments. Wes Berry's dynamic journey encapsulates an exceptional blend of entrepreneurial triumphs, influential communications, and a zest for life's diverse experiences.


I Love Everything About Las Vegas
When it comes to selecting a destination for your conventions and meeting facilities, Las Vegas, NV stands as an unrivaled choice. With its blend of exceptional amenities, captivating entertainment, and renowned hospitality, this iconic city guarantees an unforgettable event experience. From bustling conference centers to luxurious venues, Las Vegas offers an array of advantages that cater to diverse business needs. Here are the top ten reasons why Las Vegas should be your ultimate choice:
Premier Event Spaces: Las Vegas boasts a plethora of world-class event spaces, ranging from expansive convention centers to intimate meeting rooms. These versatile venues are equipped with cutting-edge technology and customizable setups, ensuring that your event's vision is brought to life seamlessly.
Entertainment Capital: Known as the Entertainment Capital of the World, Las Vegas provides unparalleled after-hours options. Attendees can unwind with top-notch shows, concerts, and attractions, offering a unique blend of work and play.
Accommodation Excellence: The city offers a wide range of accommodations, from luxurious resorts to budget-friendly options, ensuring that your attendees can find their ideal stay within close proximity to the event venue.
Dining Diversity: Las Vegas is a culinary paradise, offering an extensive array of dining options. Whether your attendees prefer upscale dining or quick bites, the city's diverse food scene caters to all palates.
Ease of Access: With its international airport and well-connected transportation system, Las Vegas is easily accessible for attendees traveling from around the world. The convenience of getting to and around the city makes it a desirable choice for events.
Networking Opportunities: The vibrant atmosphere of Las Vegas encourages networking opportunities like no other. Attendees can engage in productive conversations in a relaxed setting, fostering valuable connections.
Professional Support: The city is equipped with an experienced network of event professionals, from planners to vendors. This support system ensures that your event logistics are managed efficiently, allowing you to focus on your message and goals.
Recreation and Team Building: Beyond the meeting rooms, Las Vegas offers an array of team-building activities and recreational opportunities. Attendees can bond over thrilling experiences like escape rooms, outdoor adventures, and golf outings.
Innovation Hub: Las Vegas is a hub for innovation and industry advancements. Hosting your event here allows you to tap into the city's creative energy and stay updated on the latest trends in your field.
Keynote Speaker Excellence: Wes Berry: Elevate your event with the expertise of Wes Berry, a distinguished keynote speaker and motivational expert based in Las Vegas. Wes brings a wealth of business knowledge, success insights, and captivating storytelling to inspire and empower your attendees.
In conclusion, Las Vegas, NV offers a winning combination of top-tier event facilities, entertainment, accommodations, and networking opportunities. Choosing Las Vegas for your conventions and meetings guarantees a seamless and memorable experience for both organizers and attendees. With the added advantage of keynote speaker Wes Berry, you can ensure that your event becomes an unparalleled success, leaving participants inspired and empowered to excel in their personal and professional lives.