Everyone who's in the business or events world knows all about keynote speakers. These people are the experts that deliver in any situation they are called on. However, no one knows what a keynote carney even is, or if they exist.
Keynote carneys aren't mythical creatures, like a unicorn or bigfoot. They are real, and not the type of people needed in speaking situations. Anyone who's gone to a state fair knows how carnival people work the crowd. A keynote carney is eerily the same.
For these speakers, they only talk about one thing, success. While success is something everyone wants to hear, you don't become successful without pitfalls in life. Sometimes it's those setbacks that can propel a person to success.
However, if you never know the signs to look for with pitfalls, you won't find success. While having a successful mindset is great, an expert keynote speaker can show you how to turn previous pitfalls and setbacks into success. The book Big Things Have Small Beginnings shows a glimpse into how someone can turn something small into something hugely successful, which is what you'll want from a keynote speaker.
A keynote carney won't tell you these things, as they only focus on success. However, an expert keynote speaker focuses on the path to success. That path is the groundwork for success. If you don't know the path to success, how will you ever get there?
Genuine success comes from occasional risks, risks which a keynote carney will never talk about. In life, it's sometimes about the "high risk equals high reward" choices which we make. But risks shouldn't be reckless, as an element of making calculated risks breeds success.
An expert keynote speaker can give the groundwork for which risks to take. They can explain how to calculate your risks and turn them into success. While risks aren't easy, they can pay dividends when executed properly.
In a world full of devices which makes life easy, we have fallen into a mode of desiring easy wins on the path to success. While everyone loves an easy win, success isn't always easy. Life has an element of winners and losers, and sometimes we lose.
An expert keynote speaker can talk about those wins and losses, while giving everyone a path to success. They talk about the pitfalls of becoming a success story in life. Messages like this make people feel they can become successful, even if they have previous failures in life.
However, the keynote carney and their focusing on success and success alone can setback anyone feeling they can't reach that goal. That's why anyone looking for a speaker to be their keynote speaker needs an expert, not a carney.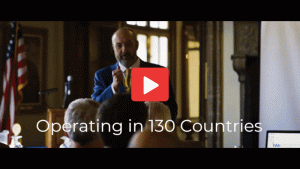 Wes Berry is available for speaking engagements and as a workshop facilitator. He is also a consultant with select organizations. As a professional speaker, he has the skills to make your event a success. He is also the Wall Street Journal best-selling author of "Big Things Have Small Beginnings: The Motivation and Mindset That Built a $750 million Business." In all, he has written twelve books in the business and success genres. And as an entrepreneur, he built an international company that operated in 130 countries. He's even done a little standup comedy as well as radio.

#events #bussinessmeetings #certifiedmeetingplaners #meetingplanners  #cmp
 #businesss #ceo #coo #motivation #keynotespeaker #speaker #workshop #SHRM